Brookcliff Community with Amenities – Houses For Sale in Marietta – Relocation Package – Marietta, Ga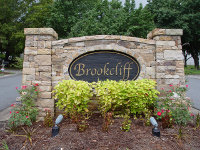 Brookcliff is a neighborhood of mature hardwoods and friendly families. It is convenient to churches, shopping, schools and activities for your whole family to enjoy. Brookcliff's traditional homes are priced between $160,000 and $325,000. Brookcliff is a great choice for active families!
Brookcliff has many amenities from which to choose to benefit your family and accommodate your lifestyle. Homeowners in Brookcliff can enjoy tennis, a park, swimming pool and playground. Brookcliff also sponsors several social events throughout the year for residents including holiday parties, Jamaica Me Crazy nights and end of school celebrations. The schools zoned for Brookcliff are Murdock Elementary, Dodgen Middle and Walton High School. Walton is a math and science magnet school. Cobb County Schools consistently score above the national average in testing scores.
Brookcliff has a Homeowners Association that oversees the neighborhood business. Covenants protect your privacy and property values, which helps to keep the neighborhood clean and retain your investment value.
Brookcliff is located in Marietta: take 120/Roswell Road West from Johnson Ferry to a right on Old Canton. Cross over Sewell Mill to a left on Brookcliff Drive
Brookcliff News @ http://www.brookcliff.org
Schools
Murdock Elementary School…. http://www.cobbk12.org/Murdock
Dodgen Middle School…. http://www.cobbk12.org/Dodgen/
Walton High School…http://www.cobbk12.org/Walton
Cobb County Schools… http://www.cobb.k12.ga.us/
Neighborhood Statistics
Prices: $161K to $325K
Number of homes: 220
Lot size: .19 acre to .73 acre
Year(s) built: 1975 – 1985