Christopher Robbins Community with Amenities – Houses For Sale in Marietta – Relocation Package Marietta, Ga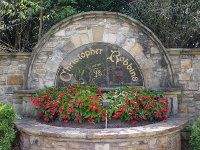 We are pleased that you took the time to view our web site. We'd like the opportunity to answer your questions about real estate in Marietta.
For "Quick Action" response
call Ken at: 770-842-4531
Christopher Robbins is an upscale, family-friendly neighborhood located in a center of activity, East Cobb. Its location is close to churches, shopping, schools and activities for your whole family to enjoy. With traditional style homes, Christopher Robbins is a smaller community with wooded lots and great amenities. Prices range between $280,000 and $535,000 with covenants to protect your property values. Christopher Robbins could welcome you home!
Christopher Robbins has many amenities to select from that can accommodate a variety of lifestyle choices to benefit your family. The swimming pool, tennis courts and clubhouse are all active areas within easy access. The neighborhood also has (had) Halloween Hayride, Labor Day party and other sponsored events. The schools zoned for Christopher Robbins are Keheley Elementary, McCleskey Middle and Kell High School, part of the sought-after Cobb County Schools.
Christopher Robbins has a five member board for the Homeowners Association that oversees neighborhood business and architectural control. Covenants protect your privacy and property values, which help to keep the neighborhood clean and retain your investment value.
Christopher Robbins can be found by taking I75 Exit 267A-Hwy 5 Connector then Right on Sandy Plains Rd, Left on Trickum at CVS, thru light at Shallowford then 3rd Left on Eula. Left into S/D
Christopher Robbins News @ http://www.christopherrobbins.org/
Schools
Keheley Elementary School…. http://www.cobbk12.org/Keheley/
McCleskey Middle School…. http://www.cobbk12.org/ McCleskey/
Kell High School….. http://www.cobbk12.org/Kell/
Cobb County Schools… http://www.cobb.k12.ga.us/
Neighborhood Statistics
Prices: $280K to $535K
Number of homes: 73
Lot size: .22 acre to .5 acres
Year(s) built: 1997 – 2003