Echo Mill Community with Amenities – Houses For Sale in Powder Springs – Powder Springs Relocation – Powder Springs, Ga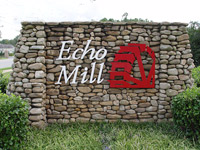 We are pleased that you took the time to view our web site. We'd like the opportunity to answer your questions about real estate in Powder Springs.
For "Quick Action" response
call Ken at: 770-842-4531
Echo Mill is a neighborhood with unsurpassed amenities, great schools and active families in Powder Springs. It is convenient to excellent shopping, schools, many churches and activities for your whole family to enjoy. Echo Mill is an excellent value with tennis courts, sidewalks and swimming pools. Find these traditional homes priced between $150,000 and $440,000 with covenants to protect your property values. Echo Mill is has a selection of homes for every wish list.
When you choose a home, it needs to accommodate your lifestyle. Echo Mill has many amenities from which to choose to benefit your family. There are two clubhouses at the junior Olympic swimming pools with water parks, two tennis court areas, soccer field, playground, nature trail, volleyball court, basketball court and sidewalks that make this a very family-friendly place to live. Echo Millsupports a swim team and tennis leagues for those of you who enjoy athletics. The schools zoned for Echo Mill are Kemp Elementary, Lost Mountain Middle, and Hillgrove High School(s), which are some of the top schools Cobb County has to offer.
Echo Mill has a Homeowners Association that oversees neighborhood business. Heritage Property Management handles the business of the amenities. There are covenants to protect your privacy and property values, which helps to keep the neighborhood clean and retain your investment value.
Echo Mill is located in Powder Springs on Corner Road, just west of Lost Mountain Road.
Echo Mill News: //www.echomill.org (e-mailed monthly!)
Echo Mill Covenants: //www.echomill.org/covenants/nbylaw.pdf
Schools:
Kemp Elementary School…. //www.cobbk12.org/Kemp
Lost Mountain Middle School…. //www.cobbk12.org/LostMountain
Hillgrove High School… //www.cobbk12.org/Hillgrove
Cobb County Schools… //www.cobb.k12.ga.us/
Neighborhood Statistics:
Prices: $150K to $440K
Number of homes: 515
Lot size: .26 acre to 1 acre
Year(s) built: 1999 – 2003