Lees Crossing Community with Amenities – Houses For Sale in Marietta – Relocation Package – Marietta, Ga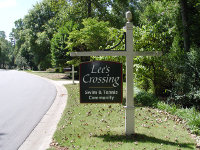 We are pleased that you took the time to view our web site. We'd like the opportunity to answer your questions about real estate in Marietta.
For "Quick Action" response
call Ken at: 770-842-4531
When you drive to Lees Crossing the mature neighborhood close to the Marietta Square, you will feel welcome with wooded lots and a peaceful feeling. Lees Crossing is a neighborhood for families, empty-nesters and retirees looking to move close to Marietta in a mid-priced home with convenience to I-75. It is close to churches, shopping, schools and activities for your whole family to enjoy. These traditional homes are priced between $157,000 and $290,000 with covenants to protect your property values. Lees Crossingis an effortless choice to make when you want to move.
Your home usually reflects the lifestyle that you chose so when you choose a home, it needs to meet your needs. Lees Crossing has many amenities from which to choose to benefit your family that include a swimming pool, lighted tennis courts and a community clubhouse. Lees Crossing has organizations and a number of activities in which the members can participate. Lees Crossing has a swim team, men's and women's ALTA teams, and a Bunco group, to name a few. The schools that are zoned for Lees Crossing are Burress Elementary, Marietta Middle School and Marietta High School, which are part of the Marietta City Schools. Marietta High School has a well-regarded International Baccalaureate program.
Lees Crossing has a very active Homeowners Association that oversees neighborhood business. There are covenants to protect your privacy and property values, which helps to keep the neighborhood clean and retain your investment value.
Lees Crossing is located in Marietta. To get there from Marietta Square, go West on Whitlock approx 2 miles, turn left on Manning go to entrance of Lees Crossing.
Lees Crossing news: www.leescrossingmariettaga.com
Schools
Burress Elementary School …. http://alburruss.marietta-city.org/
Marietta Middle School …. http://mms.marietta-city.org/
Marietta High School …. http://mhs.marietta-city.org/
Marietta City Schools … http://www.marietta-city.org/
Neighborhood Statistics
Prices: $157K to $290K
Number of homes: 411
Lot size: .34 acre to 1.2 acres
Year(s) built: 1981 – 2000