Legacy Park Community with Amenities- Houses For Sale in Kennesaw – Kennesaw Relocation – Kennesaw, GA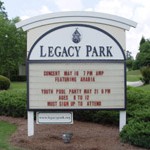 We are pleased that you took the time to view our web site. We'd like the opportunity to answer your questions about real estate in Kennesaw.
For "Quick Action" response
call Ken at: 770-842-4531
Legacy Park is in the heart of Kennesaw, Georgia. A sought after community that is brought to life by its pure presence. Legacy Parkfeatures eight (8) phases that encompasses a price range from the $160's to the $600's. Elegant! Luxurious! Fun! Once you have lived in this charming neighborhood you will never want to leave. Whether you are moving up or downsizing, you can stay and enjoy this once in a lifetime experience.
Legacy Park is full of exciting amenities and known for its family atmosphere throughout Cobb County. Legacy Park features: A large swimming pool, a youth swimming pool, plus three (3) regular size swimming pools throughout the community. There are eleven (11) tennis courts with ALTA and individual instructors. A Cultural Amphitheater for those, "Concerts in the Park" which are routine. You will find an abundance of jogging trails that are held to the highest standards achievable. Believe it or not, there is a "Little League" baseball field and plenty of young boys and girls to field the teams. In the center of the amenity area is a large field used for neighborhood get-to-gathers, soccer and the annual 4 th of July party. In addition, there are 11 neighborhood parks, a lake with bridges and tons of children activities. You'll get your newsletter monthly. Come enjoy the fun!
Legacy Park maintains a highly effective Home Owner's Association. They are practical, efficient and promote a sense on pride within the community. Legacy Park works along side the city of Kennesaw with matters concerning zoning request, code compliances, and police safety issues. In addition to the issues at city hall, the community association and the many home owners volunteer their time and effort to ensure the neighborhood's clean appearance, safety, and social activities are among one of the best in the City of Kennesaw.
Legacy Park enjoys the best schools in Kennesaw, Georgia:
Cobb County Public Schools… //www.cobb.k12.ga.us/
Cobb County School Calendar… //www.cobbk12.org/generalinfo/calendars/
Kennesaw Elementary… //www.cobbk12.org/Kennesaw/
Big Shanty Elementary… //www.cobbk12.org/BigShanty/
Awtrey Middle… //www.cobbK12.org/Awtrey
North Cobb High… //www.cobbk12.org/NorthCobb/