Marietta Country Club Community with Amenities – Houses For Sale in Kennesaw – Kennesaw Relocation – Kennesaw, Ga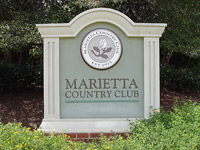 We are pleased that you took the time to view our web site. We'd like the opportunity to answer your questions about real estate in Kennesaw.
For "Quick Action" response
call Ken at: 770-842-4531
Marietta Country Club is an exclusive neighborhood for the family looking for executive homes and convenient location of Kennesaw. It is close to shopping (The Avenues and Town Center Mall), churches, schools and activities for your whole family to enjoy. Quiet and elegant, Marietta Country Club is an extraordinary opportunity. These beautiful, traditional homes priced between $500,000 and $1,700,000 also have covenants to protect your property values. Marietta Country Club is an amazing location for successful families seeking privacy and relaxation.
Marietta Country Club can accommodate your diverse lifestyle. The swimming pool, tennis courts and sidewalks are all within easy access, but the private golf course and tasteful clubhouse are really the "crowning" extras. The schools zoned for Marietta Country Club are Hayes Elementary, Pine Mountain Middle School and Kennesaw Mountain High School (that has a Magnet program), which are some of the best schools Cobb County has to offer. Alternatively, if you prefer private schools, Mount Paran private school is only around the corner and North Cobb Christian and Dominion are close by.
Marietta Country Club has a Homeowners Association that oversees neighborhood business. There are covenants to protect your privacy and property values, which helps to keep the neighborhood clean and retain your investment value.
Marietta Country Club is located on Stilesboro Road, north of Barrett Parkway.
Public Schools
Hayes Elementary School…. //www.cobbk12.org/hayes
Pine Mountain Middle School…. //www.cobbk12.org/PineMountain
Kennesaw Mountain High School… //www.cobbk12.org/KennesawMountain
Cobb County Schools… //www.cobb.k12.ga.us/
Local Private Schools
Mount Paran…//www.mtparanschool.com
North Cobb Christian…//www.ncchristian.org
Dominion High School…//www.dominionchristian.org
Neighborhood Statistics
Prices: $500K to $1.7M +
Number of homes: 101
Lot size: 52-acre to1.3 acres
Year(s) built: 1991 – 2007