Hardage Farm Community with Amenities – Houses For Sale in Marietta – Marietta Relocation Marietta, GA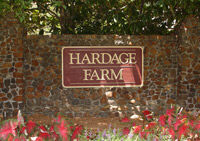 We are pleased that you took the time to view our web site. We'd like the opportunity to answer your questions about real estate in Marietta.
For "Quick Action" response
call Ken at: 770-842-4531
Hardage Farm is an upscale neighborhood for the family looking for a private, convenient and wooded location of Marietta. It is a short drive to shopping (Avenues and Town Center Mall), churches, schools and activities for your whole family to enjoy. Very close to Kennesaw Battleground Park, Hardage Farm is an extraordinary opportunity. These beautiful, traditional homes priced between $315,000 and $585,000 also have covenants to protect your property values. Hardage Farm can help you relax at home.
Hardage Farm has amenities for your active family. When you choose a home, it needs to accommodate your lifestyle. The clubhouse, swimming pool, tennis courts and playground are all well located in the neighborhood and the National Park trails are just down from the main entrance. The schools zoned for Hardage Farm are Westside Elementary, Marietta 6th Middle School and Marietta High School, which are part of the Marietta City Schools. Mt Paran, Dominion and North Cobb Christian are close-by for those of you who would desire private schools.
Hardage Farm has a Homeowners Association that oversees neighborhood business. There are covenants to protect your privacy and property values, which helps to keep the neighborhood clean and retain your investment value.
Hardage Farm is located on Burnt Hickory Road, just east of Barrett Parkway.
Schools:
Westside Elementary School…. http://www.cobbk12.org/Frey
Marietta 6th Middle School…. http://www.cobbk12.org/Durham
Marietta High School….. http://www.cobbk12.org/Allatoona
Marietta City Schools… http://www.marietta-city.org
Neighborhood Statistics:
Prices: $315K to $585K
Number of homes: 200
Lot size: .33 acre to 1.05 acres
Year(s) built: 1988 – 2002