HOMES FOR SALE IN KENNESAW GEORGIA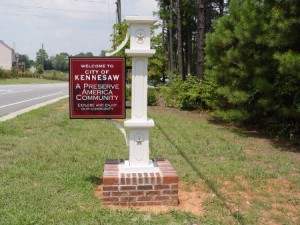 Homes for sale in Kennesaw Georgia. Kennesaw is a friendly city, immersed in history with a population of about 32,000. Kennesaw has a median age of 33, but their median income is $70,000 (national median income $50,000)! Even with Kennesaw boasting the superior income levels, the cost of living is 5% below the national average. Kennesaw also has around 73% of its inhabitants as homeowners, compared to only 37% in our "Big Sister" city of Atlanta.
Kennesaw National Battle Ground Park is a favorite destination for hikers and those who enjoy Civil War History information. Kennesaw also has the recently donated 13-acre Smith-Gilbert Gardens with peaceful enjoyment for plant and statuary lovers. There are many annual events like the Taste of Kennesaw and The Egg Scramble or continuing availability of Art classes, farmers market and parks. Of course, the Southern Museum of Civil War and Locomotive History is part of the Smithsonian Institution's Affiliations Program. The Kennesaw website has a calendar to let you know what is happening in the city, found at www.kennesaw.ga.us/CurrentEvents.aspx
The people in the Kennesaw area are very aware of the importance of a good education with both an International Baccalaureate and a Magnet program in their local high schools. Kennesaw has 92% of its inhabitants with a high school diploma and 26% have Bachelor's Degrees. Kennesaw also has its own (quickly growing) university: //www.kennesaw.stateuniversity.com/ .
At Clear Summit Realty, we want you to feel at home. As we help our clients relocate from around the country, we made it our responsibility to know the ins and outs of real estate. We hope our website has the information you are looking for. We treasure the opportunity to be your Realtor. Call on us anytime at 770-842-4531
Communities:
Amberwood Creek
Arden Lake
Arden Trace
Autumn Woods
Blue Springs
Brookhaven
Burnt Hickory Registry
Butler Creek
Calumet West
Chandler Ridge
Chastain Lakes
Country Plantation
English Oaks
Glenlake
Greyfield North
Hamilton Township
Harrison Ridge
HartfordLakes
Hedgerose
Heritage Club
Hickory Springs
Hunt Club
Legacy Park
Liberty Commons
Lost Creek
Marietta Country Club
Millstone at Walnut Creek
Old Hickory Bluffs
Olde English Lakes
Pinetree Country Club
Princeton Ridge
Remington Ridge
Saddlebrook Farms
Stilesboro Trace
Summerbrooke
The Reserve
Westover
Westport
Winship Farms
Woodbridge
Homes for Sale in Kennesaw, Georgia